"While we've got you here...."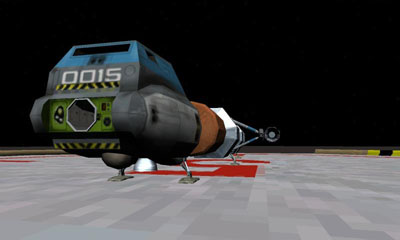 Yiiiii!!!!!

If there's ever a sentence that guarantees you lots of hassle; it's that one. After escorting my 4 passengers into the Brighton Beach airlock and assisting them through desuiting, decontam and customs processing procedures; I went into Intersolar's OCF (Orbital Control Facility) to fill out the appropriate post-flight paperwork.
While I was there; the desk supervisor said "While we've got you here..."
Yup; you guessed it - just a 'quick little side job that needs doing'.

Nuts.

I was hoping to get some quality relaxation in; spending a little time in the rec center and in general getting friendly with open air again - but that ain't gonna happen; at least for about 12 hours. Seems the Luna-OB1 orbital fuel station is getting a little low; and needs to be topped up.
OB-1 is a neutral facility owned and operated by UNETCOB (United Nations Extra-Terrestrial Commercial Operations Board). It's basically a mammoth fuel tank; a great big gas station orbiting in the ecliptic plane 1000km over the Moon's surface.
Star Petro has the contract to keep the giant tanks filled; and it's making them bloody rich. They do the job with their Mars2 orbital freighter - a real colossus of a ship that's already paid for itself. (I must try to swing by and get a shot of it sometime. Great ship - the only spaceship thus far that has its own gravity! Kinda looks like a bigass high-tech nail; but it's quite comfortable, I'm told.)
Besides keeping it in spacecraft fuel; the station also needs to be maintained; including regular resupply of oxygen and RCS fuel. That task is met by Star's small fleet of A-type Shuttles - a fairly ubiquitous light transport vessel seen almost everywhere.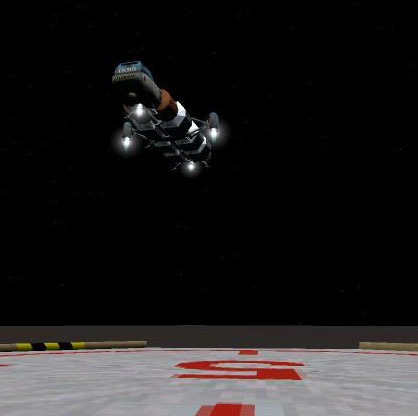 It just so happens that Star's lunar groundworkers union passed a strike vote last week; they've been on strike for better working conditions since. So right now; while Star's orbital programme is unaffected; they can't complete their servicing contracts. The UN put out a hasty contract for a maintenance resuppy to OB-1.
Eager to leap on the opportunity; Intersolar seriously undercut the competition and bid below cost for the contract - sort of ignoring for the moment that they didn't have any orbital transport pilots on the Moon. Well; they knew I was heading out there didn't they?
(Sigh) OK; well I guess I'm heading up to OB-1. Shuttle-A 0015 is fuelled, loaded and on standby; I might as well get up there now before I get too comfortable here. I'll just delay heading out to the ranges for another day.
Heading out to Shuttle-A (Commonly called the 'A-type') #0015. If you've read the whole story; this is the type of light freighter (Specifically #0127) that Slim damn near got himself roasted in.)