Orbiter | FAQ |Acronyms | Add-ons | Screen Shots | Orbiter Tutorials
Project Mercury
Filename: project_mercury_050116.zip
Author: Rob Conley
Website: AVSIM
Type: spacecraft and stations
Size: 15533K
Review Date: 02/07/05
File Description:
United State's first manned space program. The add-on includes both Redstone rocket for sub-orbital flights and Atlas for orbital flights. This release features accurate panels, simulation of the capsule's systems, historically accurate scenarios, checklists, full range of sound, failure modes, and capsule recovery. *SOME SCENARIOS REQUIRES EARTH 1962
Authored by Rob Conley, BigJimW, Dealer McDope, Shrox, Vinka, Brian Sikkema, Radu Poenaru, Duncan Sharpe, and Brad Hodges.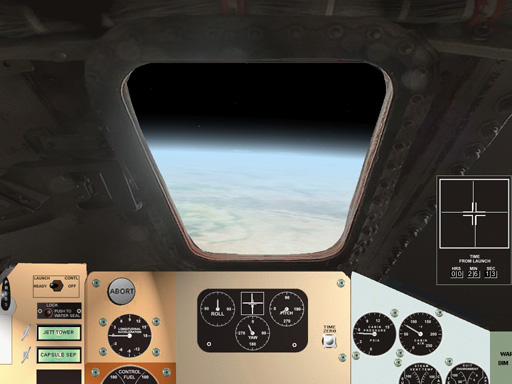 Review:
Project Mercury is the first add-on that turns Orbiter into a complete simulator of an actual historic spacecraft. That makes this add-on unique among all others in that you get to fly the Mercury missions just as the original astronauts did. You have at your disposal operating panel switches, levers, fuse, dials and gauges just as they were in the actual mercury capsules. Also the add-on comes with complete printable checklist so you can run the missions just as they were done in history. Furthermore you can try your hand at surviving random mission failures for any of the flights.

Functionality is the key to making this a historically accurate spacecraft simulator but that doesn't mean the graphics are anything less then superb. Exterior views of the rockets and capsules are up to par in every respect. Each mission capsule has its own mission insignia and every bit of the interior of the
mercury capsule is stunning. I had thought that looking out the window from the confines of the interior would restrict the view of the earth and stars outside. Not so at all, it only added to the incredible beauty as seen by the astronauts. I was awestruck by how this pulled me right back into history. Looking through the periscope is also a new experience I found to be very enjoyable.

An added feature is the rescue ships and helicopter UH-34 Sea bat. You can try your hand at finding and bringing the capsule back to the recover ship if you are so inclined. One item not currently available but something to look forward to is a virtual cockpit view. Overall though this is a topnotch add-on and definitely a must have.

To Install:
Simply unzip into your Orbiter directory with the 'Use folder names' option. These add-ons have the Orbiter folders built in so all the components end up in the right places.

Then download and install these files

- Earth 1962
- Gemini

Tips!

If you are having graphic problems, see to it that you don't use 16bit color, 24 bit or 32 bit color doesn't have these problems


OrbiterSim | FAQ |Acronyms | Add-ons | Screen Shots | Orbiter Tutorials