Family Photos

---
The Harm family adventure through Rock City, Georgia. This is a beautiful trail with lots of rock formations and greenery. What I didn't understand though was there was a waterfall at the top of this mountain. I thought that only happened in the movies. It was also surprising you had to go through Tennessee to get to Rock City.
This photos was taken with Kodak Royal Gold ISO 400 negative film. The film was then process and scan into a Kodak Photo CD master disc. Such scans are digitized with 2000 x 3000 resolution. This is far better then the resolution you get from a dig
ital camera. High resolution is necessary for making large prints. When posting photos to the web you can get fairly sharp detail with low res.
Kevin and Luke are the best of brothers. Here they are standing in our front yard.
Well Bush Gardens is always a good idea. Here my brother-in-law and family are enjoying a splendid day off.
The picture was taken by my other brother-in-law with his digital camera. You can see digital cameras can produce excellent results for the web.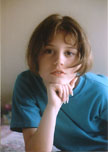 Becky in one of her thoughtful moods. She missed out on Bush Gardens with her cousin. Oh, may be next time. She got to go to Sea World instead. This portrait was digitized with my flat bed scanner. Not as easy as or as nice as a lab scan.
Here we are on our get a way without the kids. Chris takes a picture of me in the canoe. Later I capture her sipping tea in St. Augustine.
Sailing Photos | Reef photos | More family photos >>
About Eugene Harm | Web page stuff | Page Guidlines